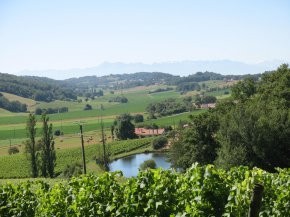 Présentation

The Betbeder vineyard is a small family vineyard of 6 hectares exploited by a father and his daughter.
Their vines are planted on slopes profiting from very good southern and south–eastern exhibitions. The soil is composed of stony grounds at the top of slopes and grounds argicocalcareous which give the most complex wines.
An additional advantage : an ideal climate. Mild winters, hot summers and dry autumns are favourable for an excellent maturity.

Motto

First, the wine is a delicate alchemy between a soil, a climate and of course the personality of the men and women who work it with love. From where their currency "De labore, solis and hominis" : work, sun and men. They favor the respectful cultivation methods of nature, so the respect of those which live and work there.

Location

Their vineyard is located in the department Pyrénées-Atlantique, at Conchez de Béarn, a lovely little village, at 40km to the north-east of Pau.